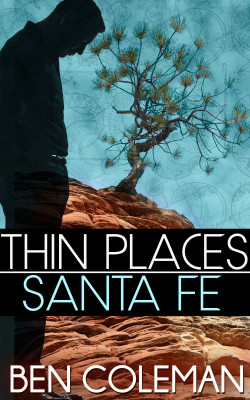 Buck Cheyne, self-made billionaire entrepreneur, learns that one of his companies is being investigated by the Feds. Under government contract and working out of the top secret Los Alamos facility, others want in on their discovery. It turns out the previously unknown 119th chemical element has powerful curative properties. Some deadly ones, also.
Plagued by horrible nightmares and personally implicated, he stands to lose his wealth and freedom. Because life is spiraling out of control, he retreats to Santa Fe in an attempt to regain perspective. There, he is mysteriously transferred to some other place not of this world and given a message. Buck knows this experience is more than a mental aberration. He becomes convinced Elizabeth Harrington, the manager of the hotel he's staying in, holds a key to deciphering what it means. She can help find out who is behind destroying him and his company before it's too late.
About the Book
The blurb is all I want to give away about the novel.  You can read chapter 1 by clicking on the link above.  Here's a little more information:
Interview with the Author
Q – So, what makes the Thin Places series special?
A – It's more than just one thing, I think. When I started writing these stories, I wanted to create books that mirrored ones I like to read. My top fiction picks almost always involve strong, well-developed male and female lead characters. And they have to love travel and adventure. A favorite series by a best-selling author involves a billionaire. So, I had to throw that into the mix as well.
Each of the novels involves travel (Santa Fe, Hawaii, Big Bend…). It's not only the destination, but how they do travel. While I don't write realism, many of the places my characters visit actually do exist. Get this: I had a reader tell me they did the Buck and Liz tour of Santa Fe.
My romantic suspense series…with a touch of fantasy adds the mystical/spiritual dimension, too. Buck's Irish heritage calls for a bit of Celtic romance and lore. Hence, "thin places" – "locales where the distance between heaven and earth collapses and we're able to catch glimpses of the divine."
Overall, the Thin Places books are a great mix of the romance and suspense genres with just enough fantasy to take them to a different level. My desire is to present a more contemporary perspective of classic romance equally balanced with suspense where my readers are entertained and able to enjoy a bit of an escape from all that presses in on any given day.
Q – What order should I read the books in?
A – I've written the series so each novel will stand on its own. You can read them in any order you wish. By the time you're finished, all story threads will wrap up nicely. However, if you wish to read them in order, here is the proper sequence:
• Celtic Oak (A prequel available exclusively to my email list)
• Thin Places: Santa Fe
• Thin Places: Hawaii
• Thin Places: Big Bend
• Thin Places: Dallas (coming soon)
Q – So, why should readers give these books a try?
A – They're entertaining with fascinating characters you'll enjoy getting to know and checking in with from time to time. And the price on Book 1 in the series is just about perfect for a test read.
Thin Places Romantic Suspense Series…with a touch of Fantasy eBook Categories:
• Romantic Suspense
• Mystery & Suspense Romance
• Fantasy & Futuristic Romance
• Contemporary Romance
Other Books in "Thin Places Romantic Suspense...with a touch of Fantasy"
Disclosure of Material Connection: Some of the links in the page above are "affiliate links." This means if you click on the link and purchase the item, I will receive an affiliate commission. I am disclosing this in accordance with the Federal Trade Commission's
16 CFR, Part 255
: "Guides Concerning the Use of Endorsements and Testimonials in Advertising."