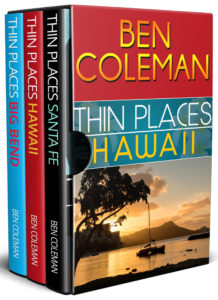 My First Box Set!
I'm excited to soon be publishing the first three books of my Thin Places series as a box set.  It will be available as an e-book download exclusively through Amazon.  The $6.99 price will save readers who purchase the set almost $2.00 were they to buy each individual title.
Currently, I'm in the formatting stage.  Recently, a fellow Indie-author and publisher turned me on to a new Apple app geared toward formatting from a document file.  I like what Vellum does so much that I am busy learning how it works.  Hopefully, the Udemy course I found will help on that front, too.
Once formatted, my launch team will have a first-look.  We'll then publish two weeks later.